Top 20 Interesting Places to visit in Imo State Nigeria
Imo state is one of the five states in south-east Nigeria. It is a major entertainment hub in the southeastern axis of Nigeria and is well known for its interesting nightlife. Imo is a state that thrives on entertainment, this makes it one state that is worth visiting if you are looking to spend some time far away from your busy schedule.
National Museum, Owerri
The National Museum in Owerri was set up in 1988. It is located at 65 Shell Camp off Orlu Road. This museum contains some artifacts from the Nigerian civil war as well as some household equipment which explain the lifestyle of the earliest settlers in Owerri.
Mbari Cultural and Art Centre, Owerri
Owerri is one Igbo city that prides itself on its very rich cultural history. If you live in Owerri or are visiting and are interested in getting to know more about the people of Owerri and their history, then, the Mbari Cultural and Art Centre is a place that you have to visit. This art center is in three sections and it contains artifacts that depict the history of the Igbo people.
Owerri Amusement Park, Owerri
Unlike the National Museum, Owerri amusement park was created for the purpose of relaxation. This amusement park is an ideal place for families to spend the weekend together away from home. Owerri amusement park feature games that can be played by every member of the family.
Imo Palm Plantation Complex
Imo palm plantation complex is not just a very large plantation, it is the largest palm plantation in West Africa. It is sited on an area of land that measures 4,310 hectares. This palm oil plantation was set up in 1974 by Ukpabi Asika. Nine years after it as setup, an oil mill was built by Chief Sam Mbakwe to aid the processing of palm oil.
Ngwu Spring Natural Water, Nkwerre
Ngwu spring natural water is also called Iyi Umugara and is located in Nkwerre Local Government Area. The waters of this spring are sparkling clean are do not reduce in volume even during the dry season. Some might consider Ngwu spring natural water a waterfall. This water body, however, does not pass for a waterfall because of its lack of height
Rolling Hills, Okigwe
Situated in the northeastern axis of Imo state are the Rolling hills of Okigwe. These hills possess great qualities that make them some of the places to be visited by tourists in Imo state. The rolling hills of Okigwe are characterized by their beautiful environment and serenity. Next time you decide to go for a picnic, this is will be a great site.
Orange Room, Owerri
Orange room is regarded as the coolest hangout destination in Owerri. It is located off Goddy Onuoha Crescent, Off Sam Mbakwe Avenue, Owerri. If clubbing and adventure are some of the things you love the most, then, Orange room will be a perfect place to pass the night on a weekend. The Orange room is open throughout the day, however, visits during the night are most fulfilling
NV lounge, Owerri
NV lounge is characterized by class. If you are hoping to meet some celebrities during your visit to Owerri, you should hang out at the NV lounge. While planning on visiting this club, don't forget to go along with your cameras as you are definitely going to meet countless celebrities that you might want to take selfies with.
Oguta Lake, Oguta
Oguta lake is popular among the people of Imo state as the marine base of the Biafran army during the Nigerian civil war. This lake is the biggest lake in the southeast and the second biggest lake in Nigeria. Oguta lake is a major tourist attraction in Imo state. Its water is pristine and it does not harbour any dangerous animals. This, therefore, makes it a great water body for tourists that enjoy swimming in natural waters.
Oguta Lake Holiday Resort, Oguta
Oguta Lake Holiday Resort is one of the most visited holiday resorts in the southeast. It is located close to Oguta lake is the Oguta Lake holiday resort. This holiday resort features a golf course with 18 holes, a golf club, the confluence of the Oguta Lake and Urashi river, a recreational park for people of all ages, and a 5-star hotel.
Nekede Zoo, Nekede
If you love animals, then, the Nekede zoo is the right place for you to visit when next you are in Owerri. this zoo is situated in Owerri West local government area and covers 10 hectares of land. Nekede zoo houses some of the most prestigious animals that are found in the savannah. Some of the animals in this zoo include; monkeys, lions, ostriches, pythons, etc.
Owerri Mall, Egbu
Owerri mall is popular for housing Shoprite, Owerri. It is located at Egbu road and is one of the few places in Owerri where you can get virtually anything you need.  Owerri mall contains lots of shops where goods can be bought at affordable prices. This mall also contains a cinema where you can see movies just before or after shopping.
Dan Anyiam Stadium, Owerri
As a football enthusiast, Dan Anyiam stadium is a place in Owerri that you have to visit. This stadium is located off Wetheral road and is the home stadium of Heartland Football Club, a professional football club in Imo state. This stadium is a world class stadium and the only stadium in Owerri.
Maria Assumpta Cathedral, Owerri
Located at Villa Assumpta, Maria Assumpta Cathedral is no doubt a Catholic church. This, notwithstanding, it is a major landmark in Owerri and is one of the places in Owerri that is worth visiting. This cathedral was constructed in 1948 and is one of the biggest catholic churches in Nigeria.
Channel O, Owerri
Channel O is one of the most established shawarma spots in Owerri. This restaurant makes some of the best shawarmas in Owerri and will be worth your visit if you need a place to buy tasty shawarma. It is located at 30, MCC road, Ikenegbu Layout, Owerri.
Ukwu Mango, Owerri
Ukwu mango is a popular spot among the residents of Owerri. This joint is considered the best pepper soup joint and will be a great place to hang out if pepper soup is something that you dig. You can either decide to order goat meat pepper soup or fresh fish pepper soup. The choice is yours.
Picey Suya, Owerri
Located at Shirley's mall, 33 Ekwema Crescent, Ikenegbu, Spicey suya is both a regular restaurant and the no 1 suya spot in Owerri. If Suya is one meal that you can't go a night without having, then, you might just have to make it to this restaurant every single night that you will be spending in Owerri. Also, if you are looking to mix up with the locals in a very relaxed environment, Spicey Suya is he place you should visit.
Ikemba Ojukwu Convention Center and Recreational Park, Owerrri
Located opposite heroes square, Ikemba Ojukwu convention center was built in honor of the late Ojukwu. It contains some important artifacts that have something to do with Ojukwu and the Biafran war. If you are interested in getting to know more about the Biafran war, then, you should spend some time at this convention center.
The Mall, Aladinma
The Mall Aladinma is located in Aladinma housing estate in the heart of Owerri. It was established in 2010. It is an entertainment hub and features a nite club, a multipurpose hall, and cinema suites. If you are looking for a place in Owerri to do some shopping, the mall, Aladinma is that place.
Imo State Library, Owerri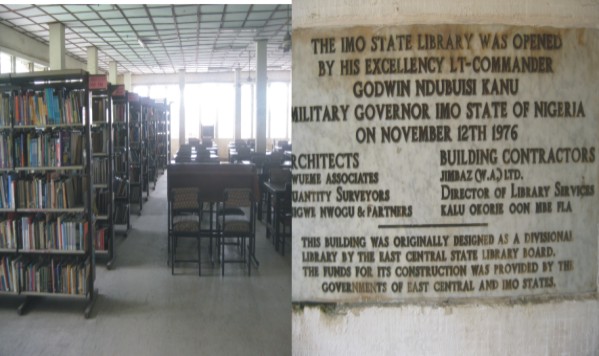 Since leaving the university, not many Nigerians have been to a library. Well, if it's been a while you went to a library, the Imo state Library is one you can visit next time you are in Owerri. This Library is well-equipped and is absolutely free
There you have it; the top 20 most interesting places to visit in Owerri. Next time you are in Owerri spice up your visit by checking out some of these places.