PDP says Pres. Muhammadu Buhari has lost support in Kano
– The PDP after it successful presidential campaign rally in Kano said Pres. Muhammadu Buhari has lost support in the state
– It also urged Nigerians to move out and cast their votes
The Peoples Democratic Party PDP in a recent statement released by the party on Social media disclosed that the unprecedented and overwhelming support the Presidential candidate of the Party, Alh. Atiku Abubakar had in Kano State is proof that the Presidential candidate of the All Progressive Congress, Pres. Muhammadu Buhari has lost support in the state.
According to the PDP, the People of Kano have joined the other Northern states in the country to reject the Presidential candidate of the APC.
Read More: Video: Pres Buhari humbly seeks Nigerians support in the coming Presidential Election
The PDP in a statement released via it social media handle called on Nigerians to use all legitimate measure to protect their votes in the forthcoming presidential election.
Below is a statement released by the PDP
The mammoth crowd that embraced Atiku Abubakar, in Kano has finally awakened President Muhammadu Buhari to the stark reality that he has lost it all in Kano state.
The people of Kano state are in alignment with other states, particularly in the north, in rejecting President Muhammadu Buhari
for his manifest aloofness and insensitivity to the welfare of the poor, while his close relations and cabal at his Presidency live in arrogant opulence.
The PDP t
herefore charges Nigerians to politically occupy on the day of election and use all legitimate measure to protect their votes in the overall quest to rescue our nation from President Muhammadu Buhari'
s misrule and return it to the path of national cohesion
Below is a picture from the PDP Kano Presidential rally as shared by the political party.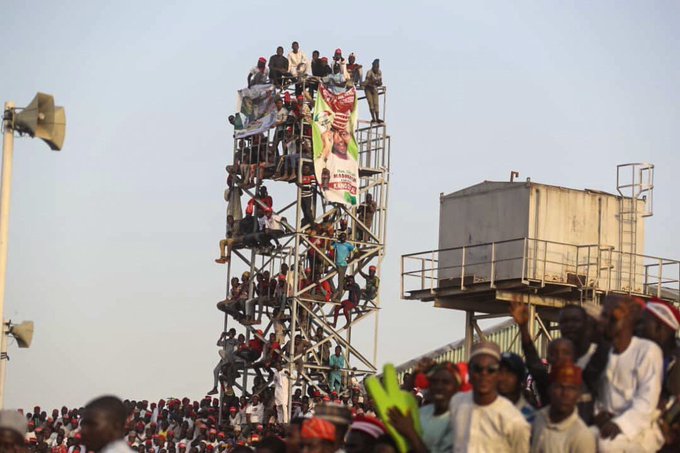 In another news, Atiku Abubakar is in Rivers State alongside Rivers state Gov. Nyesom Wike and PDP National chairman, Secondus for the PDP Presidential campaign rally.