Top 20 Places to Visit in Anambra State Nigeria
Anambra state is one of the five states in south-east Nigeria. It is bordered by Delta, Kogi, Imo, and Enugu states. This state is rich in some natural resources such as crude oil, natural gas, bauxite, etc. Anambra state, created in 1991, has Awka as its administrative capital and Onitsha as its commercial capital.
That said, below are some of the interesting places to visit in Anambra.
Aluminum Pot Molding, Igbo-Ukwu
Virtually everyone has benefitted from pots, however, only very few people have seen one being made. Well, if you want to see an aluminium pot being made, then you should pay visit Etiti village in Igbo-Ukwu. These pots are made by Uchechukwu Abatam. Although the process of making these pots cannot be learned by just watching, it is still worth your time.
The Obi of Onitsha Palace, Onitsha
The palace of the Obi of Onitsha is situated at Awka Road, Onitsha, Anambra. It is home to the traditional ruler of the Onitsha kingdom. The palace of the Obi of Onitsha is a very well visited tourist destination in Anambra state and also the venue for quite a number of traditional festivals.
Shoprite Mall, Onitsha
At Shoprite mall, Onitsha, all your shopping can be done in just one building. It does not matter what you want to purchase, Shoprite mall is a place that can be trusted to meet your needs. You do not have to want to buy anything before paying this mall a visit, as it is also a place to snap instagram worthy pictures.
Awka Wonderland, Awka
Awka wonderland is a nice place for a family to hang out. Although this place appears to be more suitable for children, it also has some facilities that can be enjoyed by adults. Awka wonderland was patterned after Disney land. It features a zoo, an amusement park, etc.
Igbo-Ukwu Bronzes, Igbo-Ukwu
Igbo-Ukwu bronzes date all the way back to the 9th century. Although the ancient town of Igbo-Ukwu has been a major center of civilization among the Igbos, Igbo-Ukwu bronzes gained national prominence in the 1930s.
Ogba Waterfalls, Ogba
Ogba waterfalls is located in Owerre-Ezukala town. It is a waterfall in front of the Ogba Ukwu cave and is a major tourist attraction in Anambra state. The Ogba waterfalls has the gigantic Ogba rock as its source and forms a rainbow colour as it falls on the pile of rock below.
Rojenny Tourist Village, Onitsha
Rojenny tourist village is situated along Owerri/Onitsha road. Just as its name depicts, this amazing place was built with tourists in mind. Rojenny tourist village features a game reserve where lots of animals such as giraffe, lions, chimpanzees, etc are housed.
Agulu Lake, Agulu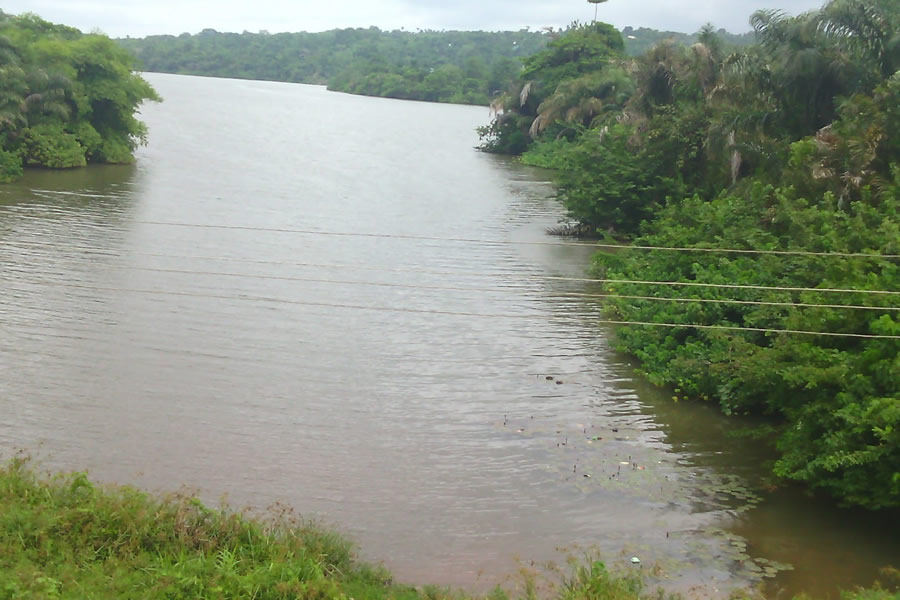 Agulu Lake is located in Anaocha Local Government Area. This lake has a width of about 7km and is endowed with different species of crocodiles and fish. Its beautiful scenery makes it a great place for picnics with family and friends. You can also decide to engage in some sports such as fishing and boating.
Odinani Museum, Anaocha LGA
Odinani museum is located in Nri village in Anaocha Local Government Area. This museum, sponsored by the Institute of African Studies, University of Ibadan contains a large collection of traditional costumes, pottery war equipment, etc.
Ikenga Virgin Forest, Ikenga
The Ikenga virgin forest is believed to be the one and only virgin forest in Nigeria. This forest is a rainforest and has never been cultivated since the inception of time. The Ikenga virgin forest is a thick forest and is home to lots of wild animals that no longer exist in most parts of Nigeria.
Butu Lake, Butu
The Butu Lake covers an area of 10 hectares. It flows out of the Odo River and is open for fishing all through the year. The water from this lake is made use of by rice and vegetable farmers. In addition to the agricultural benefits of this lake, it is also an ideal place for a picnic.
Okpu Ana Natural Spring, Okpu Ana
The source of the Okpu Ana Natural spring is unknown, it emanates from a cliff and flows into a stream at the bottom of the cliff. The Okpu Ana natural spring is regarded as the cleanest waters to be found in any part of Nigeria. Although there is no proof for this, this assumption still stands.
Obu Ofo-Nri Museum, Nri
The Obu Ofo-Nri Museum is a private museum that was set up by the Eze Nri of Enugwu-Ukwu. This museum is perhaps the only private museum in the southeast. Contained in the Obu Ofo-Nri museum is a broad range of artworks that can keep tourists busy all day long.
Agulu/Nanka Erosion Site, Agulu
Everyone that has the slightest idea of what an erosion is knows that it is not something to be celebrated. Well, this notwithstanding, the Agulu/Nanka Erosion site is one site that has attracted tourists from within Nigeria and outside Nigeria. This gully erosion has a depth of two hundred meters and covers a wide area.
The River Niger Bridge, Onitsha
The River Niger Bridge is located in Onitsha South Local Government Area. This bridge connects Onitsha with Asaba and is the gateway between south-east Nigeria and Southwest Nigeria. It is also a nice place to take some pictures with the river Niger as its background.
Onitsha Main Market, Onitsha
The Onitsha main market is the largest market in Nigeria and entire Africa. This market is located in Onitsha, the commercial capital of Anambra state. This market is a place that you can get virtually anything you need. Even if you have no intentions of buying goods in this market, a visit to this market will help you understand the value of trade in the southeast.
Anambra State Library, Awka
Situated at Eke Nwanya Street, Abagana, Awka, Anambra, Anambra state library is a library that contains a wide range of books. This library is open to everyone that has the ability to read and is absolutely free. This Library is situated in a quiet environment which means it is an ideal place for some personal study even if you don't intend to make use of any books on the library.
Keneth Dike Memorial Library, Awka
The Kenneth Dike Memorial Library is situated at Aroma junction, Awka, Anambra. It is one of the few private libraries in Nigeria. This library was named after Kenneth Dike, the first vice-chancellor of the University of Ibadan and can be accessed for free.
Ogbunike Caves, Ogbunike
Located at Ogbunike, Anambra state are the Ogbunike caves.  These caves were discovered 100 of years ago by a hunter that was known as Ukwa. These caves are situated in a tropical rain forest very close to the Ogba hills. This place is believed to have protected the people of Ogbunike during the slave trade era.
Onitsha Mall, Onitsha
Onitsha Mall is situated at Park Street, Onitsha G.R.A, Onitsha, Anambra. It was set up in 2014 and is one of the places in Anambra state where you can get about anything you need at a good price and without having to do some serious bargaining. Irrespective of your budget or taste, you can always get what you need at this mall.
Anambra might not seem like a state with lots of interesting places, however, a visit to the above-named places will change your view of this state.